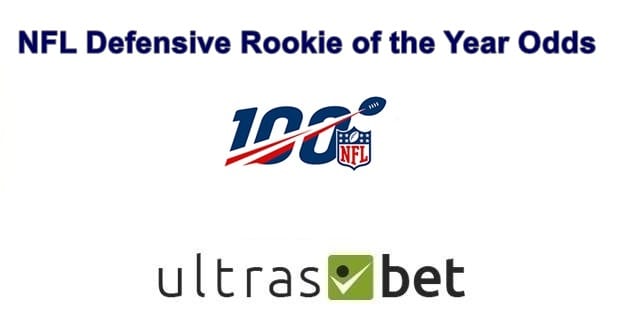 An interesting thing is that most of the first-round picks in the 2019 NFL Draft were either defensive players or offensive linemen. There is always a potential for an underdog to win the NFL Defensive Rookie of the Year award but we will mostly take a look at the top prospects from the draft.
2019 Defensive Rookie of the Year Odds at BetNow
Nick Bosa is probably the best talent in the entire NFL Draft, so if the 49ers had the 1st pick, they would've still gone for him instead for the first overall pick, Kyler Murray. Bosa will join an already great defensive line, filled with so many talents. He had a great sophomore year in college and even though, he didn't play much in 2018, he was still selected 2nd overall.
Devin White, an LSU graduate, joined the Tampa Bay Buccaneers as the 5th overall pick of the draft. He had a controversial high school career and he was disregarded by most of the top schools but LSU still offered him a scholarship. He had a great sophomore year when he caught the eyes of the experts and he managed to improve in his Junior year by having 62 tackles in 13 games and forced 5 fumbles. He is also joining a decent defense, so he will start contributing right away.
Devin Bush Jr. is the 10th pick of the 2019 NFL Draft and he was selected by the Pittsburgh Steelers. He had 3 great years at Michigan with his last one being one game away from the playoffs. His sophomore year was very solid and he slowed down a bit in his Junior one, in order to avoid potential injuries. The Wolverines' linebacker played in 12 games in 2018 and finished with 66 tackles and 4.5 sacks.
Quinnen Williams will join another great defense- the New York Jets' one. He was selected with the third overall pick and he will surely contribute to one of the key positions in the whole defense. He is an Alabama graduate who plays as a defensive end. He had 8 sacks in his last season with the Crimson Tide and he also recorded 71 tackles, 19.5 were tackles for loss.
Ed Oliver is another player who needs to be followed closely. Even though he didn't play for one of the best colleges, his stats in Houston proved that he is a valuable guy that can be used in the NFL. He is a 3-time First-Team All-American and he has been improving since his freshman year in college. He played just 8 games in his final season, in order to keep himself healthy. He finished his sophomore season with 73 tackles, even though he didn't participate in all of the games.
[sociallocker]Prediction: Nick Bosa is the best talent and he is probably playing on a better team than Devin White. I think that only these two can compete for the NFL Defensive Rookie of the Year award. Bosa's 49ers teammates will mentor him and he will join one of the best defenses in the entire NFL. With Jimmy Garoppolo back and healthy, San Francisco may manage to get even to the postseason and Bosa will be a part of this success which will make a great story for the media. And we all know that the greatest story wins the MVP award.[/sociallocker]