✅ Best Online Baccarat Casinos
When most people think of baccarat, they instantly think of James Bond. Baccarat is a Bond classic, but beyond that, it is also a hugely popular casino game. Admittedly, baccarat doesn't quite have the numbers that roulette or blackjack have when it comes to the sheer number of people playing it, but there is a good reason for that.
Most people believe that baccarat is far too difficult to learn to play. There may be some truth in that, but that only really applies to the land-based casino world. When playing a baccarat casino game online, you needn't worry about learning the overly complex rules – at least not right away.
Baccarat Casino Game
Basically, baccarat is a game about trying to get as close to 9 points as possible. Unlike blackjack, where you can bust, baccarat has a system whereby numbers are subtracted from a total – 10s and all face cards count as 10 points, while aces count as 1s. For instance, if a player has a 9 of Hearts, and a 7 of Clubs, they have a total of 16 points. Well, that's too much for baccarat (with the limit being 9 points), so you take the value of the second digit by subtracting ten from the hand, therefore making your hand is worth 6 points.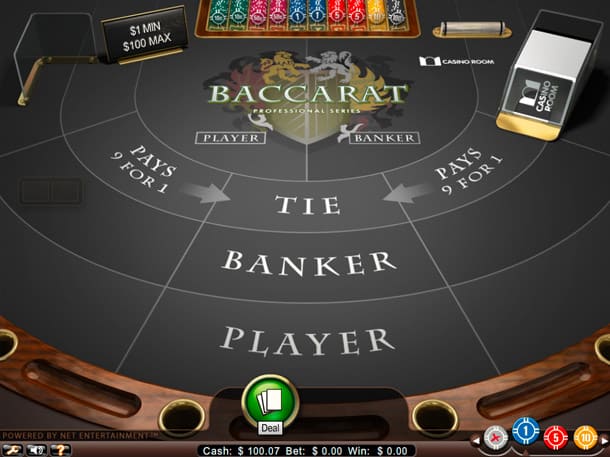 Baccarat casino rules allow you to bet on either the player's hand or the bankers. Two cards are dealt out to both players. The point totals must be announced, followed by adjustments to the points total if the hands are over.
There is an overly complex system for determining if a third card must be drawn from the deck (far too complex to trouble you here). Whilst we do advise you to look at baccarat casino rules for the Third Card Rule, eventually, you don't really need to do that to play online, since baccarat casino game online rules will give one to you anyway if you must to take one.
Once the hands are complete, the hand that is closest to 9 wins. Ties are usually a push (unless you bet on them), so bets are returned. However, it is worth pointing out that most baccarat games feature commission (usually 5%), which is paid to the banker when you win betting on the banker's hand.
How to Play Baccarat at the Casino
If you think learning the Third Card Rule is complex, then wait until you try to learn baccarat casino game strategy. As we said, we do recommend that you learn it eventually, but only if the baccarat bug bites you and you want to become a complete player. There are ample resources out there online to help you out in this regard.
Best Baccarat Live Casino
Best Online Baccarat Casino
If you want to try your hand at Bond's game and become a baccarat pro, there are many top places you play this game. Playing at a baccarat casino online is a doddle, although there are several things you may want to keep an eye out for.
Firstly, you're going to want to find an online baccarat casino, USA players will find agreeable – they need to be able to play there for a kick-off. Secondly, you should try and make sure that there are several baccarat tables or games available to play. If a casino offers live dealer baccarat, make sure it has various tables – some for high-rollers, but also those for newbies such as yourself with low-stake bets.
Very few baccarat online casinos offer promotions exclusively related to the game, but you can find offers which aren't available for use on baccarat at all. Make sure your chosen casino offers baccarat-friendly promotions.
Lastly, the very best baccarat casinos will also have several toolboxes or resources, such as a baccarat school where you can learn to ply your trade and practice, potentially for free on baccarat demo games.
Baccarat Casino Game Tips
Strategies take a long time to nail down to perfection, but by playing for free, and taking things slowly at a good baccarat casino, you should be able to get to grips with the game rather quickly. That being said, there are still a few things you can do to get yourself in a prime position to enjoy your baccarat casino gaming experience. Here are a few handy baccarat casino game tips.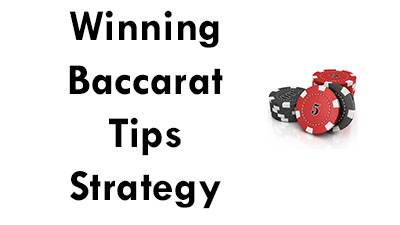 Firstly, don't worry about the Third Card Rule – the hard work is usually done for you at baccarat casinos. If you're playing live dealer baccarat, though, you may wish to have a good understanding of those rules. You needn't panic about the Third Card Rule – you won't get a choice in the matter anyway. A third card is a requirement of the game and is thus not optional. The "dealer" will sort that out for you.
Secondly, the banker's hand is marginally more likely to win (hence the commission). This is because of the rules surrounding how a third card is handed out. The advantage to betting on the player's hand is bigger winnings since you don't pay a commission. You can bet on a tie if you want (it offers a great payout of 8:1) but you stand a less than 10% chance of success with this bet.
Lastly, unlike roulette, baccarat is considered by many to be a game of luck. You aren't dealing purely with a chance here (since you bet one of three ways). Given that, the more you know about its rules and how it is played, the more likely you are to win.
Baccarat casinos may not be as common as most other major casino sites, but there's no question that the gameplay to be had can at times be far more exhilarating to your average punter.